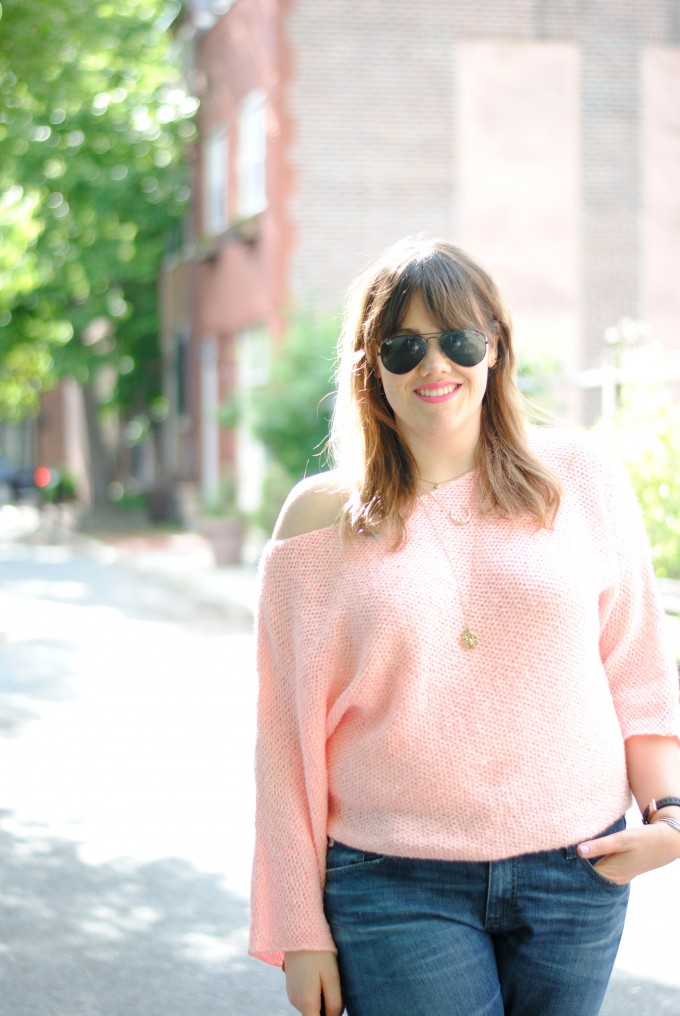 Zara sweater (see below for more fun options) :: AG Nikki relaxed skinny jeans ::  Acne boots :: Ray Ban aviators ::  Alexis Bittar horseshoe neckace :: RappBlack watch :: Proenza Schouler for Mac lip pencil in Dynamo & lipstick in Pinkfringe (so good you guys, and still available!)
 There was an inside joke (mostly between me, myself and I) when I first started this blog about how much pink I would wear. I didn't even realize how much I liked to wear it until I started documenting my outfits (see: this endeavor brings many opportunities for self awareness and reflection). But when I moved out East, I took a little break. It must've been the 'seriousness' of the east coast, or more likely the non-Californianess of this current state I reside in, who knows really. But along came Spring this year and I found myself craving some serious pink in my life, so here we are.
While taking a little walk around the neighborhood this weekend, I discovered this so-very-lovely (and in bloom) community garden hidden in an alley behind my apartment building. Funny how little treasures of life can just seem to appear before you, making your day- I've lived here a year and never noticed it before. Someday, if I decide I need another hobby I might join in to the tending, but for now I just plan on visiting it every couple of days to admire its beauty.
Also: can we talk about how skinny skinny jeans are kind of on the way out?! I've been so ready for a switch up – now I find myself reaching for these seriously relaxed skinnies almost on the daily: soooo comfy, and they just feel fresh to wear…
Shop Pink Sweaters!