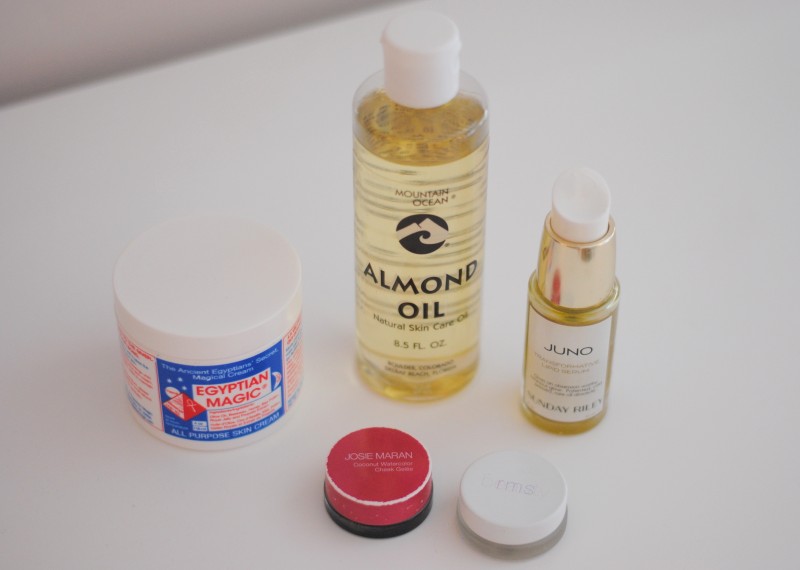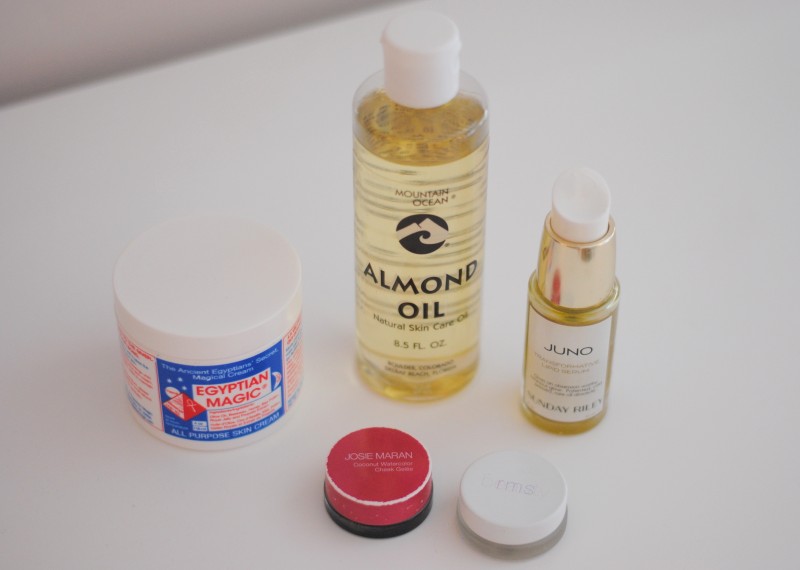 Ok I admit it, I have completely drunk the kool-aid on the whole oil movement. I passed by the oral oil-pulling (who has that kind of time?) and went straight for the beauty products. I had to give it up for the summer, due to the sweaty mess it would have become, but now we are back in oil season. The best thing about using oils is that they are free of synthetic ingredients that are found in most moisturizers – parabens, synthetics, sulfates, etc. Sharing with you here some of my favorite face, body and beauty oil-based products.
Egyptian Magic: this is not marketed as an oil, but it most definitely is. After hearing it rhapsodized over for its multiple benefit cure-all properties, I saw it on the shelves of Urban Outfitters (it's actually hard to find) and went for it. It is not cheap, but this is a massive amount. It is basically an oil-based balm you put anywhere on your body that needs some salving. Elbows, eczema patches, back of arm bumps, curling iron burns, you name it: cured.
Mountain Ocean Skin Drink Almond Oil: my new favorite all-purpose all over body moisturizer. Warm it up in your palms and rub all over your body right after the shower. It does not make you greasy or sticky like normal moisturizers and soaks in really nice, giving you a nice subtle sheen. It's the only thing I have ever been able to handle putting on my legs. Mountain Ocean is truly the original hippie-dippie all natural beauty company. You can find it at whole foods/health food stores and Urban Outfitters.
Sunday Riley Juno Transformative Lipid Serum: a Barney's master sales girl recommended this to me over Rodin face oil, mostly because it is a sophisticated mix of EIGHT different good-for-you oils- taking it to the next level in skincare. It sinks in evenly and perfectly, and I wake up with luminous skin. If you are scared of face oils, don't be. They are amazing- a little life changing. There is a correct way to apply it: put a dime sized amount between your fingers, rub to warm up the oil (so it heats up and therefore applies and sinks in better) and then PRESS all over your face. Don't rub.
Josie Maran & RMS Beauty both make amazing all-natural cosmetics with oils as bases. I especially love the Josie Maran Coconut Watercolor Cheek Gelée and the RMS Beauty Living Luminizer. Try both!
do you have any favorite oil-based products? do share!