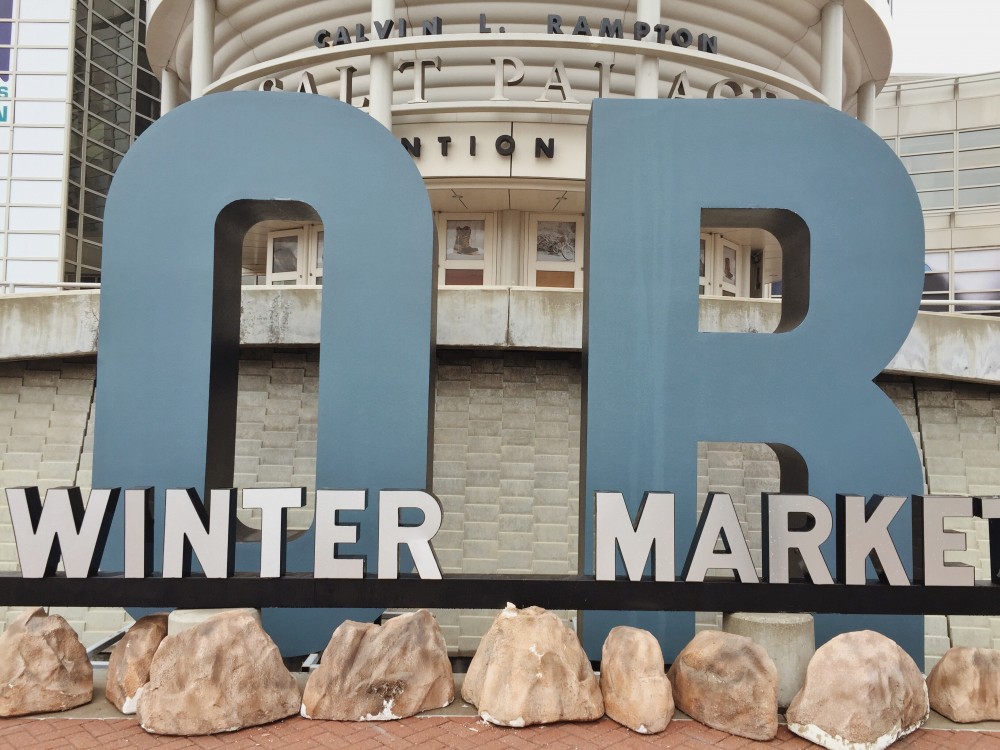 A couple of weeks ago I attended the Outdoor Retailer trade show in beautiful Salt Lake City, Utah.  I went to check out what's coming up in 2016 in the outdoor, active and athleisure space. I have to say, I was super impressed and am excited about all of the innovation and energy currently pushing the industry forward. A rising tide has come. This show is also well-known to be one of the more fun trade shows around, with kegs rolling in at 4pm everyday (which I was not mad about).
I set out to cover the show and bring you the most exciting companies and new products aimed directly at women (ok, there are some co-ed in there). It was a little disappointing that women run-and-for companies were fairly scarce, to be expected in this industry I guess. I do think things are changing, with the Outdoor Industries Women's Coalition charging forward and making waves (check out their movement with REI to get more women leadership in Outdoor companies, badass and also, necessary). I joked to several women that just wait and see, I will be creating an entire women's section to this show in just a few years.
Without further ado, here is what to look out for. Most of this is not shopable as almost all product is upcoming, note.
|| Sherpäni bags ||
The cutest, most feminine booth at the show with the cutest and sweetest girls. This Boulder, CO company has been around for a while making functional women-specific, environmentally friendly luggage and bags, but just recently has reinvented themselves with a healthy dose of style. I love what they have coming up- perfect travel and everyday bags, still highly functional, and with a dose of mountain cool (aka alpine heritage, which I am into).
|| Snow Peak ||
This is a Japanese heritage company that is actually headquartered in outdoor-mecca Portland, OR.  They started in camping gear (think stoves and cooking tools) and have expanded to very cute apparel. It is your classic Japanese interpretation of classic American Workwear (this is very much a thing). This is a unisex company, but I fell in love with their booth, branding and cozy lifestyle apparel (how cute?!) and felt it really spoke to me as a female. Because, cute. The recently opened a store in Soho,NYC, in addition to their Portland outpost. Check them out.
|| Grand Trunk Hammocks ||
A pink hand tie-dyed hammock? How about one with a pisces fish print? Sign me up! Hammocks are a serious thing these days, and this company makes the prettiest ones. They actually had me lusting for a camping hammock, you guys. Geniuses in my book. They're ultralight, weighing in at 12 oz. and come in a small stuff sack. Not just for college campuses, camping trips and hippie music festivals, but also for your back porch and your weekend friend trip to wine country. Everyone needs one!  More hardgoods and apparel outdoor companies need to prioritize design the way this company has.

|| Knixwear ||
High-performance, well designed and highly functional undies for wearing during all of your active endeavors, and also, everyday life.  To date the most funded fashion company on kickstarter (impressive, and also, wow, way to solve a need). Of course this is a female-led company. There are several versions of the undies, from boy shorts to bikinis to thongs, in differing materials meant for active or everyday. I got to sample their everyday invisible boy short, and I'm in love. The material is super seamless, moisture wicking, maximum stretch and recover, stays in place and…is comfortable.  The most innovative women's underwear I've ever seen and thank god. I couldn't get behind this Toronto, Ca based company more. Follow them on facebook or instagram and get $10 off a $50 order. I want all of the pairs of these cute lacey numbers. They JUST funded their second product story, a bra, shipping next month. I saw it in person and it pretty much looks like something I would wear all day everyday. Need.
|| Cirque Mountain Apparel Hats ||
A unisex company I fell in love with, because they're just so darn cute! Pom Pom intarsia hats, with multiple designs from all 50 states (sports and ski mountains too!. You really have to check out the website for their entire expansive offering – Totally cute. Just saw Drew Barrymore wearing the Alaska one on her instagram! (photo credit: Engine Room Media)
|| Maloja Outerwear ||
A gorgeous German outerwear brand with the cutest women's ski and snowboard apparel I saw at the show.
|| Manduka ||
Most yogaites know Manduka for their premium yoga mats, blocks and other props. However, this Spring they are debuting a line of beautiful yoga apparel. Well designed and thought out, with perfect lifestyle crossover appeal. I especially loved their subdued nature-inspired prints. This LA company is the real deal and I'm excited to see where they take this.
|| Carve Designs ||
A little all-women (founded, run, for) activewear apparel company based in Mill Valley, north of San Francisco. They started in surf-wear and are venturing into ski and snowboard outerwear! Love that. They are definitely worth checking out for all beach and mountain babes. Check out their swim and activewear here
|| Timbuk2 bags ||
The favorite messenger bag company from the early 2000s (did all the boys in your high school have those colorblocked bags too?) is doing some cool things in the urban lifestyle space for women. They have yet to do many dedicated women's bags but they do have a Luxe Femme line for Fall 2016 (which I unfortunately didn't get to see, but will be on the lookout for). What did catch my eye though was the Lux Zip Pack as left. Performance inspired backpacks are very big right now and these are the coolest I've seen out there, in a I-want-right-now way. Furturistic with all of the right bells and whistles (even a zip-out raincover, for the pack and also, your head). With one of these you'll be the coolest biker-chick on the block (and by biker-chick I mean soul-cycler, duh).
…
Check out Cozy and Snowy: Winter Wonderland Vacation Destinations

by Bliss Editor at Mode
Save